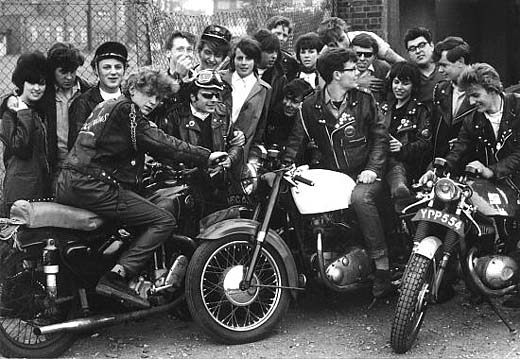 In this photo: Rockers.
In Pittsburgh there were "mods", "slicks" and "young blacks" that were different than our Negro parents. No true British style mods, nor true British style Rockers. I was a young black mod/rocker. Slicks were "norms". Mods were the 1st mass gtr generation. We began learning to play British invasion, folk, blues, top forty, country, bluegrass and r&b/burgeoning soul on our guitars. Not pop. We hung out at Lomakin's Music on Liberty Avenue downtown, Tarshis' Music on Baum blvd. in East Liberty off Highland Ave., the "listening rooms" of the various National Record Mart stores, Point State Park, and the Village Pizza on Ivy Street off Walnut in Shadyside. We began to wear leather jackets over "Carnaby" fashioned shirts. We accessorized with iron crosses, swastikas(I know),leather boots and garrison belts, wristbands of leather and steal link chain, etc. Some of us began smoking weed by late fall of 64. After I moved to Boston circa 1966, I found acid which had been slowly leaking out of Cambridge to the general mod/hipster public.
http://www.radioliberty.com/Symbols%20and%20their%20meaning_files/swastika.jpg
SWASTIKA 1: Ancient occult symbol of the sun and the four directions. Revived by Hitler, it represents racism and the "white supremacy" of neo-nazis. Like other occult symbols, it is often placed inside a "circle".
http://www.radioliberty.com/Symbols%20and%20their%20meaning_files/swastika2.gif
SWASTIKA 2 (Crux Dissimulata): An ancient swastika which symbolized the four winds or directions and their corresponding spirits. It was also a "fire and sun symbol occurring initially in Asia and later among the Germanic tribes," according to The Herder Symbol Dictionary.[4] "The cross inscribed in a circle mediates between the square and the circle," emphasizing the "joining of heaven and earth.... and "the perfected human being."
http://www.radioliberty.com/Symbols%20and%20their%20meaning_files/symbol22.gif
SWASTIKA 3: A contemporary variation of the many swastikas with labyrinth patterns. Like the two swastikas above, its arms point counterclockwise indicating a mystical, lunar and female orientation. Compare its two intersecting lines with "Sun Sign 2, its curved arms (following the shape of the circle) with Swastika 2, and its dark areas with the "Iron Cross."
http://www.radioliberty.com/Symbols%20and%20their%20meaning_files/cros-iron.gif
CROSS (IRON or EISERNAS KREUZ): Also called Mantuan or Maltese cross. First linked to an ancient goddess temple on Malta, it was adopted as the Iron Cross in Prussia. During the First World War, it appeared on German fighter planes and tanks. Later, it became a fascist symbol in France, Portugal and other nations.
I post these in refute of the Nazi meanings of these symbols and would refer you to their TRADITIONAL meanings BEFORE they were appropriated by Nazi Germans.
In the Mods/Rockers(Early Beatles) era of the 1960s, we wore these Swastikas and Iron Crosses with leather/Carnaby Street fashions with their ORIGINAL meanings' intent; we wore them in defiance and repute of the 1930s-45 Nazi significations.
Copy and paste image URLs to see art/objects referred to.
Also reference blog entry: http://duaneridesagainblogspotcom.blogspot.com/2009/07/pagans-mc.html